Jet Engine-Wash System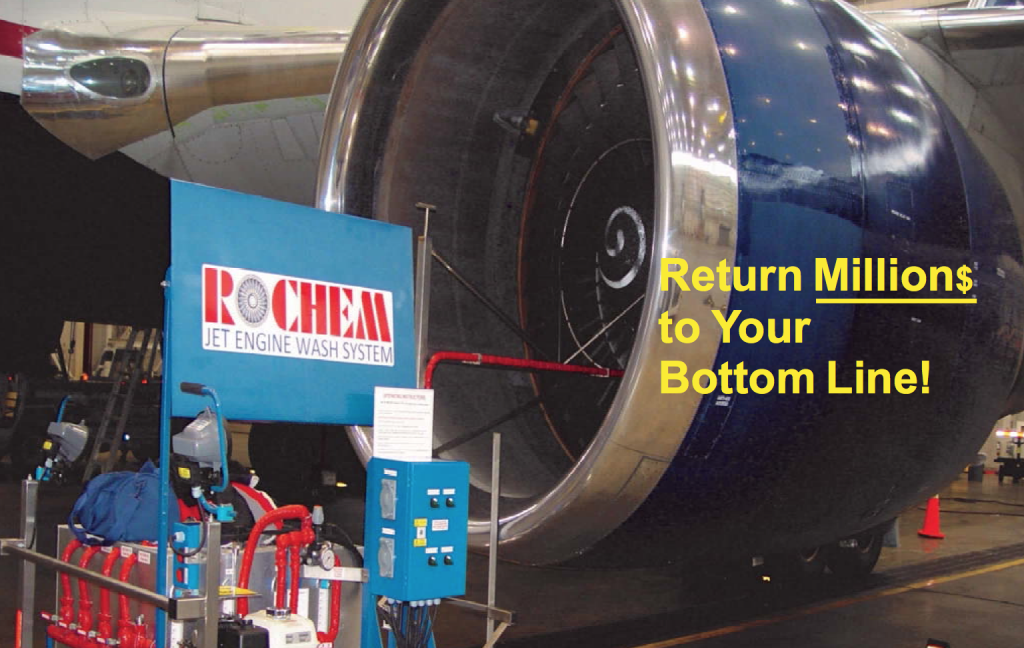 "THE RO-JET-WASH™ SYSTEM DESIGNED FOR THE WORLDS LARGEST COMMERCIAL AIRLINE NOW AVAILABLE TO AIRLINES WORLDWIDE!" 

• Reduced Fuel Burn


• Consistent Results


• Longer On-Wing Time


• Unrivaled Cost/Benefit Ratio


• Lowest Engine Wash Cost


• Wash When Needed


• No Contracts


• No Equipment Attached to Engine or Aircraft

US Airways Propulsion Engineer Andrew Perkins stated, "Exhaust gas temperature margin (EGTM) recovery when washing with the Rochem Jet Engine Wash System

has averaged over 10 deg. C for our fleet of CFM56-5 engines installed on Airbus A319/320/321 aircraft. This level of recovery has exceeded the last decade of experience we've had with legacy equipment. What has really set this system apart is the time that we retain that recovery. Most engine washes with legacy equipment would see an immediate recovery in EGTM but quickly taper off after a few weeks. This would only give us minimal fuel consumption and on- wing time benefits. With the Rochem Jet Engine Wash System, we can now measure that sustained recovery in months and retain the benefits of reduced fuel consumption for months. This recovery often leads us into the next scheduled wash and allows us to greatly extend on-wing time and ultimately delaying costly shop visits."
The Rochem® Jet Engine Wash System (Ro-Jet-Wash™) represents the latest, most efficient, effective and low cost ownership technology for the on-wing cleaning of any type and size of aircraft jet engine. 
The already numerous proven benefits of using the Ro-Jet-WashTM system include
Significantly reduced fuel burn – typically 1 to 1.5% per year

Consistent, predictable results from every engine wash

Longer on-wing times 
Operator choice of using hot water washing only or hot wash with the addition of detergents to further improve cleaning effect

Patented a tomising nozzle injection system maximizes compressor (and main fan) cleaning result with minimum usage of water

Considerably reduced maintenance workload

Easier maintenance process and procedure

Engine wash times including set-up reduced to minutes not hours

Unsurpassed cost/benefit ratios

Extremely short payback/amortization periods

Minimal maintenance requirements – no consumables apart from water (and small amount detergent if used)

Self-powered for use anywhere on site

Safe, self-positioning system – no physical connection whatsoever to the engine being washed

Optional mobile sluice system for the collection and recovery of under engine water wash drainage and removed dirt. Sluice extends to 8 meters (more if needed) and folds to 2 meters in minutes for storage and/or transportation

Optional post treatment system (mounted on engine wash cart) using patented ultra-filtration system for the separation of waste water, dirt and chemical (if used) and reuse of cleaned water or safe disposal to drain.

Optional demineralizer system (also mounted on engine wash cart) using patented Reverse Osmosis (RO) module system for the generation of high quality wash water meeting all engine OEM requirements
The Ro-Jet-WashTM System is supported world-wide by Rochem® Aviation Inc. and its associated Rochem® Group companies.